What is FUE method of Hair Transplantation?
Follicular unit extraction (FUE) is a type of hair transplant done by taking individual hair follicles from your skin and moving them to another part of your body where the hair's thinner or absent.
FUE has become more popular than the follicular unit transplantation (FUT) procedure, which led to the "hair plugs" look.
Surgeons use micro punches to extract single follicles and move them, leaving behind almost no signs of extraction.
This latest hair transplant technique involves removing healthy hair follicles directly from the scalp and grafting them into the bald areas of the head. Using the latest techniques, allows our hair transplant specialists to do larger FUE sessions than before and harvest is the maximum amount of hair follicles in the minimum amount of time. No stitches and no aftercare guarantee that clients can get back to work the following day.
Benefits of the Contura Clinic FUE Technique
Why is the FUE technique so popular?
FUE is often done in 1 or 2 sessions over the course of 1 or 2 days. In rare cases, a "mega session" may last 10 to 12 hours.
FUE is an outpatient procedure, so you can typically go home after each procedure.
You don't have to interrupt your daily routine too much after FUE. But don't immerse the area in water or do any rigorous exercise for about a week.
What's special about our Specialist Hair Restoration Team?
Our specialist hair transplant surgeon Dr. Sreekar Harinatha offers the most advanced, minimally invasive Hair Transplant techniques available.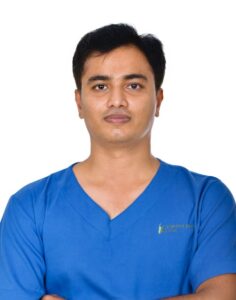 Our team of technicians and surgeon are highly skilled in implanting hairs, leaving no visible scarring from the extraction of the hair grafts.
You can wear your hair however you want after your procedure and get back to your daily life as quickly as possible with minimal fuss and discomfort.
FUE Hair Transplant – When Will The Results Show?
You will be able to see the outline of your new hair line immediately after procedure. 6-12 months later, the transplanted hairs will have re-grown fully and the bald patch or receding hair line will have disappeared.
The results will be totally natural-looking and permanent.
Contact Us Today For A Consultation- Call 7022543542
Come and see us in the heart of the city and are ready to help you make the right decision about your hair restoration.
You can rest assured that nothing is more important to us than your well-being, your results, and your satisfaction.
We know you have a choice, but why take a gamble?
Hundreds of people have put their trust in us, why don´t you join them? It´s a decision that can change your life, let us help make this a reality.
Our friendly staff are waiting to discuss the next steps with you.
Are You Ready To Start Your Hair Restoration Journey? Contact Us Today
This is how the grafts are harvested
How is the FUE Hair Transplantation done?
Follicular unit extraction (FUE) hair transplants are done by taking individual hair follicles out of your skin and implanting them elsewhere on your body. This will make the hair in the new area look thicker.
Step 1: Your surgeon will shave down the hair in the area where follicles will be removed as well as around the transplant area.
Step 2: Using a micro punch tool, they will remove follicles from your skin.
Step 3: Your surgeon will then make a series of tiny incisions with a needle or other small, sharp tool where the extracted follicles will be inserted.
Step 4: They'll insert the follicles into the incisions.
Step 5: Your surgeon will clean and bandage the area for recovery.
What are the side effects of hair transplantation?
You won't experience any scars from an FUE hair transplant other than tiny white dots where follicles were taken out. These may fade over time.
See your doctor if you notice any of the following rare side effects: infection symptoms, drainage or crust where the surgery was done, pain or swelling around the surgery site, follicle swelling (folliculitis), bleeding from the surgery site, numbness or tingling near the surgery site, transplanted hair that doesn't look like the hair around it and balding or thinning continuing even after the transplant.
What care should be taken after Hair Transplantation?
Beginning on the day after surgery, you may begin to wash your hair gently in the shower. Try not to let the water beat directly and forcefully onto the recipient area where the grafts are for the first 4-5 days after surgery. You may want to have a cup/mug in the shower to help rinse the graft sites. Beginning 2-3 days after surgery you can gently touch the grafts with the fingertips while washing in the shower. Avoid catching the grafts with your fingernails. 
When combing, do so carefully to avoid dislodging the grafts. 
Try to avoid hair dryers for 1-2 weeks, especially the hot ones. 
Hair coloring or cutting can be done once all the crusts have fallen off. 
Use a shampoo after diluting it in a mug of water before applying. Use mild shampoo every day for three weeks.
What is the cost of Hair Transplantation in Bangalore?
The cost of hair transplantation depends on the expertise of the surgeon, anesthetist backup, OT facilities, and the competency of the hair transplant team.
At Contura clinic, we assure world-class facilities and personnel to help us achieve consistent results.
At Contura clinic, the charges are Rs.35 per graft plus 18% GST. (EMI options available)